The Art, Death, and Life of Andy Sweet
Andy Sweet returned home to Miami Beach after receiving a Master of Fine Arts degree from the University of Colorado at Boulder in 1978 to photograph the old world Jewish culture that then distinguished South Beach. In graduate school, Andy had been part of a small faction of young artist-photographers who investigated the creative possibilities of color imagery. Pioneering color photography in the documentary tradition, his work immediately took off and was recognized by regional and NEA grants and with one-person exhibitions in Miami's finest art galleries.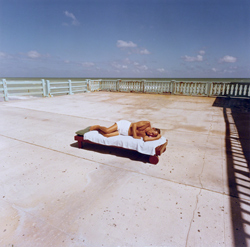 Andy's aesthetic was equally fresh. He rejected formalist theory and idea-driven imagery in favor of immediate and unmediated responses, of living it up and aligning himself with the people he knew he was privileged to photograph. His beach-ball hues perfectly described the vivid light and lively culture he explored and portrayed, a culture that many others found bleak and boring. The pure and spirited photograph was what mattered to him. Intuitive and certain, each push of his camera's shutter release button was an affirmation of his values.
He photographed in this way until he was killed in 1982, when he was 29 years old. While mourners overflowed from the sanctuary of Miami Beach's Temple Emanu-El, The Miami Herald was preparing a tribute to Andy Sweet; it was the cover story in its then Sunday supplement, Tropic magazine. Time passed; the murder was solved, the assailants imprisoned. Soon the story became a memory. But the Sweet family and others kept an emotional vigil. Friends came together to preserve his artwork and memory, art critics weighed in on Sweet's work, and a foundation was formed. Significant voices, including Herald art critic emeritus Helen Cohen, Miami-Dade County premier arts administrator Bob Sindelir, and renowned photojournalist Mary Ellen Mark were among Andy's biggest fans.
In the early 1980s archival preservation wasn't practiced as widely as it is now, and Miami's nascent art scene did not know how to respond to or integrate Sweet's work after his death. Art photography was still relatively new and Andy's practice of documentary confused many an expert. Some weren't even able to answer with certainty: Is it art? A few of Miami's more visionary art leaders, though, did ponder as to what kind of art this was. Indeed, that is always the central question about any art that, by definition, doesn't look like or doesn't function like the art that came before it. Andy's work was simply ahead of its time.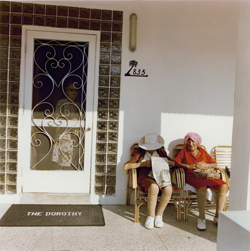 Andy was not a careerist; he never chased grants or craved exhibiting his work. He was satisfied to photograph for the love of photography. His zest for life supplanted any career moves. He was wonderfully unorganized. He left no plans for the disposition of his work. (Why would he have done so at such a young age?) The photographs became a tangible metaphor of Andy's life. Friends and consultants came and went, the family tried to raise money for a suitable repository for Andy's prints and negatives, but after a few years the attempts to do the right thing with Andy's legacy diffused. His family was unsure of how to proceed with preserving and sharing Andy's work with the broader community.
The Sweet family was advised to move Andy's archive to The Fortress, Miami's premier art storage facility. This secure environment was where museums and serious collectors stored their artwork. In January of 1994, the family deposited all of Andy's negatives there. Andy's prints were stored separately; it is a central preservation practice not to keep prints with negatives. Now Andy's family could relax a bit while still working to secure his legacy. Then the unthinkable happened again.
The Fortress moved in 2002, and in the process, the company lost Andy's negatives. All of the boxes in which Andy had stored them vanished. Iron Mountain, the firm who bought The Fortress in 1996, offered to pay one dollar per box in restitution–a total of $5.00. While Iron Mountain wound up paying considerably more in the final settlement, even this larger payment was a mere fraction of the images' artistic and historical value. An immeasurable blow to Andy Sweet's legacy had occurred.
The funds received from Iron Mountain helped establish The Andy Sweet Memorial Foundation, now the Andy Sweet Photo Legacy, a non-profit organization designed to accomplish the preservation and promotion of Andy's work. This new effort would attempt to systematically assess and conserve what remained of Andy's work. His early black-and-white photography had survived, but his glorious mature prints were gone.
Graphic designer and digital artist Stan Hughes, the partner of Andy's sister Ellen, came into the project in 2005. On a visit to Andy's archive of prints, Stan flipped through the large file of color work-prints Andy made in preparation to crafting his final prints. Andy had kept thousands of these tests along with the contact sheets. The informal and uncorrected small work-prints were all that survived.
Now, thanks to digital photo restoration technology, Stan realized that a significant portion of Andy's work could be reclaimed by scanning the work-prints and color-correcting these digital files in Photoshop. This approach has been successful beyond expectation. New prints made from these restorations rival the color and sharpness of Andy's own darkroom prints. A path to restoring Andy's lost photographs has opened up, and an expanding collection of restored prints is emerging to establish Andy's important accomplishment.
In 2012, The Andy Sweet Photo Legacy selected Lisa Stone Arts to offer estate prints for sale, and the sales' revenues would be used to further develop the preservation of Andy's archive. These prints are key images of Andy's and are printed under the supervision of the foundation; each print is stamped on back and is signed by a foundation representative.
This is the first time in the 35 years since his death that Andy Sweet's wonderful and important photographs are available for purchase.