Florian Ludwig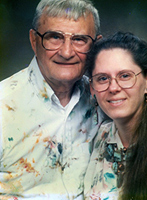 Florian Ludwig believed his destiny was to be recognized as a great artist with his own museum, so he never sold any of his pieces. The self-taught and deeply spiritual artist died at age 88: "the first day of Spring, early in the morning he left as the first signs of Light moved over the planet," writes Terry, his widow.
Terry, 40 years his junior, did everything she could to keep the collection intact-- and to keep alive his visions of peace and light. After the storage costs became too much for her, she asked a friend to help dispose of the contents of the warehouse unit where his sculptures, collages, and jewelry were kept. The entire collection was acquired by Lisa Stone Arts in 2010, and we are convinced that he deserves recognition among the outsider ranks for his fastidious craftsmanship and spiritual vision.
"When Florian was a boy he heard the most beautiful music in the woods at the edge of his town. He followed the music and came to a stream where there was a light ray coming down. It was music from another dimension and it touched him deeply," Terry says. He kept his visions to himself, fearing punishment from the nuns at his Catholic school, as well as from his parents. He remained deeply religious his whole life, though in later years he transitioned from organized religion to a more personal vision. According to Terry, "He was very energetic and woke early each morning, it was at times like this he received messages from the Universe."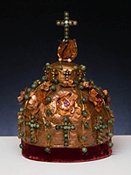 Florian called his art Lovisionism. Each of his creations was and remains virtual prayers of peace and goodwill, and the angels that appear throughout his oeuvre are the harbingers of his message. His meticulously crafted crowns and crosses are unlike anything else in contemporary folk art, and he also made jewelry based on these spiritual themes, along with amazing copper boxes in which to keep them. In addition to metal and stones, Florian used velvet, wood, cardboard, wallpaper, and carpet to construct objects of prayer and worship.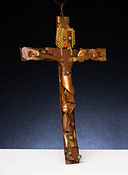 Florian's art was "motivated by a request (to do whatever he could to promote Peace) by his Mother after he and his two other brothers returned from World War II," Terry writes. "He created his art with Love and a Vision that it could inspire in others Inner Peace. He was always creating something."
Lisa Stone Arts is the exclusive representative of the Ludwig Collection.